---
"There's a real crisis on the apprenticeship front because over the last quarter, the number of apprenticeship starts has fallen by 70%."

Chuka Umunna MP, 30 November 2017
This is correct. The number of apprenticeships started in England in May to July this year (48,000) was 72% lower than in February to April (173,800), according to official statistics. Comparing quarter to quarter in the same year is not necessarily the best measure, because some differences might be due to the time of year. The fall in apprenticeship starts is 59% when comparing to May to July last year (117,800).
Earlier this year, starts had increased compared to the year before.
One reason put forward for the recent decline—by bodies such as the trade organisation EEF, and business body the CBI—is the introduction of the new apprenticeship levy, which came into force in April 2017.
This new funding system requires all UK public and private sector employers with an annual pay bill of more than £3 million to pay a levy of 0.5% on their pay bill. Business that employ apprentices are then able to access some of these funds to help pay their apprentices, with a top up from government.
A number of business groups have criticised the design of the levy. For example, the EEF has said the levy is too complex and has proved difficult for employers to access funds in time. Some others have been more positive but say there needs to be greater awareness of the new system.
Government statisticians commented on the effects of the new levy that "It may take time for organisations to adjust to the new funding system, and so it is too early to draw conclusions based on the number of apprenticeship starts recorded since May 2017."
Overall, there were 494,900 apprenticeship starts in 2016/17—a fall of 3% since 2015/16, when there were 509,400.
The number of apprenticeship starts has fluctuated in the past few years. The lowest number of apprenticeship starts in recent years was during 2013/14.
If someone has started more than one apprenticeship in the same year, they will be counted more than once.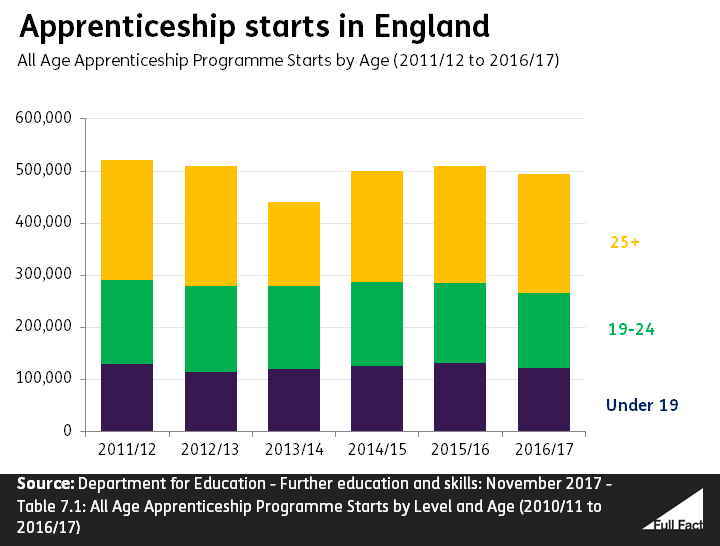 There have been questions about the quality of apprenticeships and success of the policy, which we've written about here. The Institute for Fiscal Studies has also written more recently about this here, including on the new funding system.
This factcheck is part of a roundup of BBC Question Time. Read the roundup.
Isn't it nice to have the whole picture?
We rely on your donations to continue and grow our factchecking efforts - to help us maintain our independence we need 1000 donors to give £10 a month. We are currently at 502 - please help Full Fact grow.
By Joseph Shuttleworth
---